Wicklow Highlands . 1996 stallion by Temperence Hill, out of Peppy Gale. He stood 15.3 hh, and came off the track in March 2006.  Wicklow possessed the heart to win and a personality full of willingness and extraordinary character.  In his racing career he had 98 starts, 25 wins, 16 places, and 13 shows.  It was only after the second bow to his left foreleg that he retired and entered the world of breeding in April 2006. He was GRADED STAKES placed, and boasts earnings of $628,803. In 1980, Wicklow's sire Temperence Hill won the Kentucky Derby prep races the Rebel Stakes and Arkansas Derby, and then he went on to DEFEAT the Kentucky Derby winner Genuine Risk and Preakness Stakes winner Codex at odds of 53-1 in the Belmont Stakes. In addition, he won several additional Grade I stakes and was voted Champion three year old of 1980. He ended his career with earnings of $1,567,650. In 16 seasons of breeding in North America, Temperence Hill sired 3 foreign champions, 39 stakes winners, and 433 winners from 602 starters with total earnings of $26,538,905. Wicklow's dam, Peppy Gale also raced before being put into the broodmare band, and earned $35,552.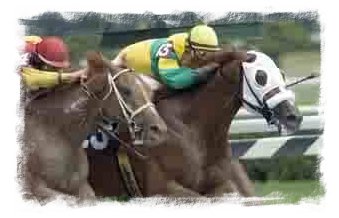 Above: Wicklow Highlands at Saratoga, Edgar Prado up...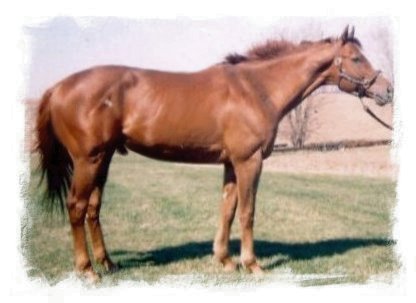 We felt that Wicklow would have been an incredible sporthorse producer, and he bred several sporthorse mares for 2008 foals. He was presented to the AWS in June of 2006 and received high marks in conformation. He began professional retraining under saddle in September 2006 with Jana Wagner of Wally Woo Farms in Kansas. In November of 2006 Wicklow was presented to the American Trakehner Association.  He had been excused from the  performance testing and free-jumping portion of approvals due to his exceptional racing record. Wicklow was one of 10 stallions presented, and the only thoroughbred. He performed beautifully, despite less than 2 months of retraining under saddle, and he displayed his typical stellar temperment the whole weekend. Unfortunately, only 1 stallion was granted approval, much to our dismay and disappointment. There are currently no thoroughbred stallions approved for breeding with the American Trakehner Association.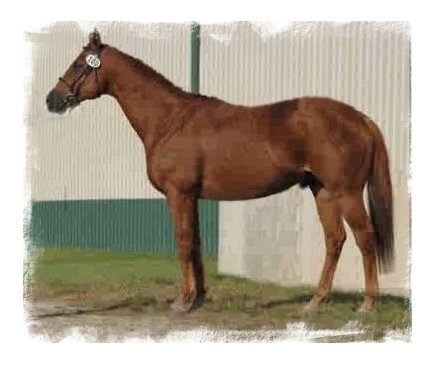 "Wicklow Highlands xx combines two outstanding TB lines that both had significant influence on warmblood breeding worldwide. On top, Turn-To xx sired Best Turn xx, who produced the stallions Motley xx and Hand in Glove xx for the European Trakehner breed. Motley's son Refrain was approved in Neumünster, while Hand in Glove xx had an international career in show jumping in France and managed to sire several highly regarded daughters and very good event horses.

On the dam sire, Nothern Dancer xx, Vaguely Noble xx and Nijinsky xx have left significant influence on various warmblood breeds, especially in the production of show jumpers and good event horses."

Tragically, on April 23rd, 2008,  my beloved Wick took a bad step, and tumbled. X-rays of his shoulder and elbow showed a radial fracture of the elbow, with breaks immediately above and below, and also involving the joint.

Wicklow Highlands was a true warrior, and he displayed stellar bravery and acted as if he could keep on keepin' on despite what must have been terrible pain. It is heartbreaking for me to know that this wonderful, hard-knocking horse who ran on a fractured sesamoid, fought through a bowed tendon, raced some more, and "retired" after his second bow, yet STILL continued with retraining and everything after retiring, fought yet again to convince everyone that he was allright. But we knew better, and the prognosis for surgery, due to the location of the injury, the type of fracture, and the fear that he WOULD fight, even as he suffered left us with the only decision we could make. Through many tears we discussed our options and concurred that the only fair thing we could do was the thing that hurt us so, so much. His first and only foal crop was exceptional, and I am am eternally grateful for having had the opportunity to know him...